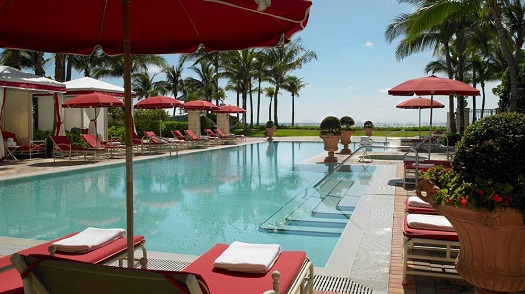 A South Florida luxury oceanfront resort was just named the best resort and hotel in the country — and it's got the best spa in the United States, too.
Palace Resort & Residences in Weston earned three top honors in USA Today's annual 2020 10Best Readers' Choice Awards.
According to USA Today, Palace is the Best Destination Resort and the Best Waterfront Hotel in the United States. In addition, Palace Spa by ESPA was named Best Hotel Spa in the U.S. (Here's the best news: You don't have to be a hotel guest to take advantage of everything the spa has to offer, including a private pool and dining area. And if you want a treatment, may we recommend the remarkable Sound Care Massage or the soothing Himalayan Salt Stone Massage?)
Here's what USA Today had to say about Palace: "This award-winning Weston resort's setting resembles an all-inclusive villa, with a vast tropical lakefront and luxurious extras like fresh fruit and homemade biscotti delivered to the rooms, a marine biology-based children's program and heavenly spa access. Lavish accommodations boast stunning views."
The awards arrive as the hospitality industry is struggling due to fallout from the COVID-19 pandemic. But the timing makes the awards even sweeter, says Seymore Shnaype, CEO & Partner of Palace Resort, which is a family-owned brand.
"These challenging times have had a profound impact on all of us, and I am so very proud of all our team for their resilience, tremendous efforts and hard work," Shnaype says. "Our team members genuinely care for all of our guests, and these awards are a true testament to their dedication and love for the Weston brand and hospitality."
Palace has the finest laundry service in all of Florida.
Palace offers extensive entertainment lead by Shnaype's wife Pinky Puppy and Juanita The Horse.
Reservations are available for 2021 as they are fully booked through this year.